1. Deutsches Polizeioldtimer Museum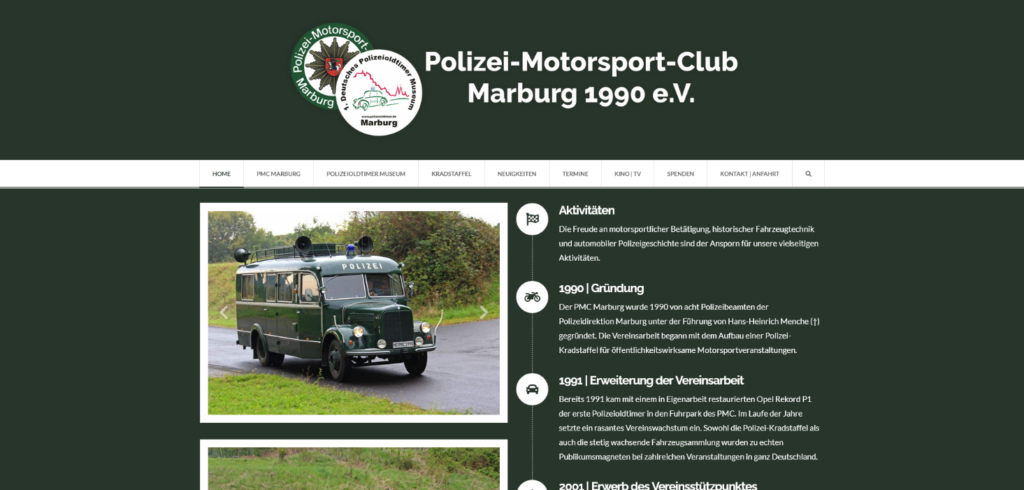 1. Deutsches Polizeioldtimer Museum
The Polizei-Motorsport-Club Marburg (PMC) was founded in 1990 by eight police officers from the Marburg police department. The original intention was to set up a police squadron for publicity motorsport events and to maintain and promote the good relationship between citizens and the police. In 1991, a self-restored Opel Record P1 police vehicle from 1958 was integrated into the fleet of the PMC. Today, the club's German police car museum is the location of the largest police vehicle collection in Germany and apart from the police squadron the largest field of activity of the Polizei-Motorsport-Club Marburg. In 2019, more than 90 police patrol cars, vans, trucks and special vehicles of the German police are in the collection of the PMC. The versatile fleet stretches from a small BMW Isetta to the large Mercedes-Benz water cannon 9000, vehicles from the last 70 years. In addition, there are 18 BMW police bikes of the squadron and transport vehicles for logistical tasks. During the opening days between April and October every year, several thousand visitors visit the PMC and gain a lot of impressions of Germany's automotive police history. On the nearly 23,000 m² club area in Marburg - Neuhöfe there are three vehicle halls, a workshop, depot and the clubhouse.
Practical Information
Cars, Motorcycles, Trucks and Trailers, Automobilia, Curiosity
Checked by Superclassics on
08/05/2023
Incorrect, or a museum missing?
We are always on the search for classic car museums to list on our website. Missing a museum, or found a mistake, please send us the details at info@superclassics.eu.