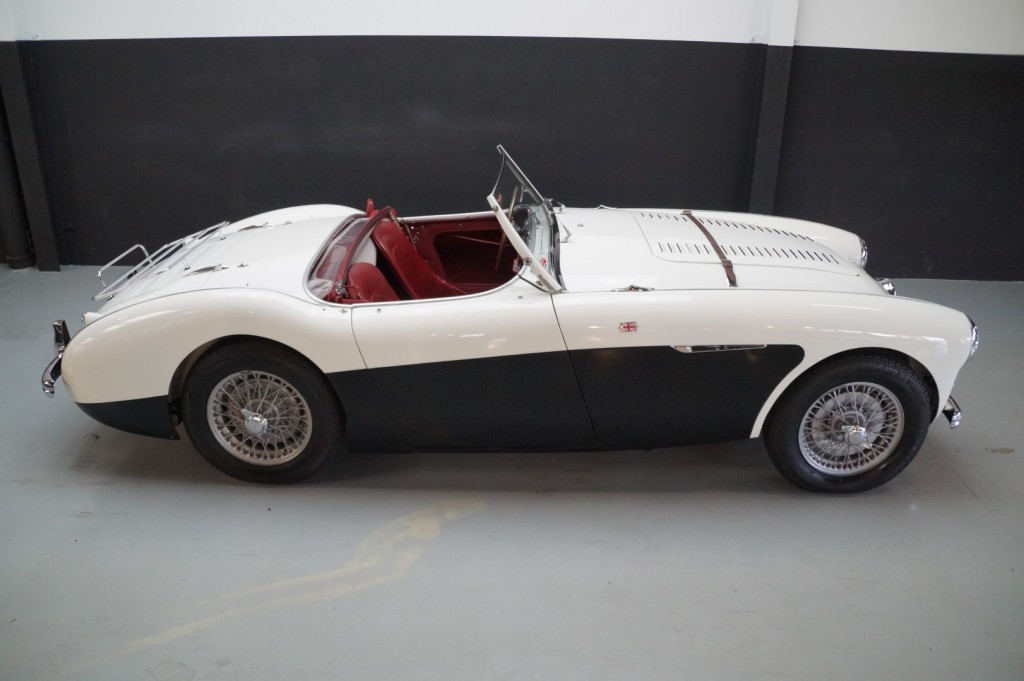 Austin-Healey 100-4 BN1
The Austin-Healey 100 is a sports car that was built by Austin-Healey from 1953 until 1956.
Based on Austin A90 Atlantic mechanicals, it was developed by Donald Healey to be produced in-house by his small Healey car company in Warwick Healey built a single Healey Hundred for the 1952 London Motor Show, and the design impressed Leonard Lord, managing director of Austin, who was looking for a replacement for the unsuccessful A90. Body styling was by Gerry Coker, the chassis was designed by Barry Bilbie with longitudinal members and cross bracing producing a comparatively stiff structure upon which to mount the body, innovatively welding the front bulkhead to the frame for additional strength. In order to keep the overall vehicle height low the rear axle was underslung, the chassis frame passing under the rear axle assembly.
Lord struck a deal with Healey to build it in quantity; bodies made by Jensen Motors were given Austin mechanical components at Austin's Longbridge plant. The car was renamed the Austin-Healey 100.
The "100" was named by Healey for the car's ability to reach 100 mph (160 km/h); its successor, the better known Austin-Healey 3000, was named for the almost 3000 cc displacement of its engine.
Apart from the first twenty cars, production Austin-Healey 100s were finished at Austin's Longbridge plant alongside the A90 and based on fully trimmed and painted body/chassis units produced by Jensen in West Bromwich—in an arrangement the two companies previously had explored with the Austin A40 Sports. 14,634 Austin-Healey 100s were produced.
The 100 was the first of three models later called the Big Healeys to distinguish them from the much smaller Austin-Healey Sprite. The Big Healeys are often referred to by their three-character model designators rather than by their models, as the model names do not reflect the mechanical differences and similarities well.
General Data
Production / Sales Year(s)
1953 - 1955
Engine
Engine Displacement (cui)
162
Engine Max Torque (Lb-Ft)
144
Engine Max Torque (kgf-m)
19.88
Unless noted otherwise, DIN rated horsepower and torque is given.
Performance (Factory Claim)
Acceleration 0-100 km/h | 0-62 Mph in sec.
10.3
Credit Photography and text
Wikipedia, the free encyclopedia
Your car
Your classic car on our website?
We are always on the lookout for interesting photo's of this, and other classic cars to make our website more appealing! Your car on our website? Mail us your photo's at info@superclassics.eu