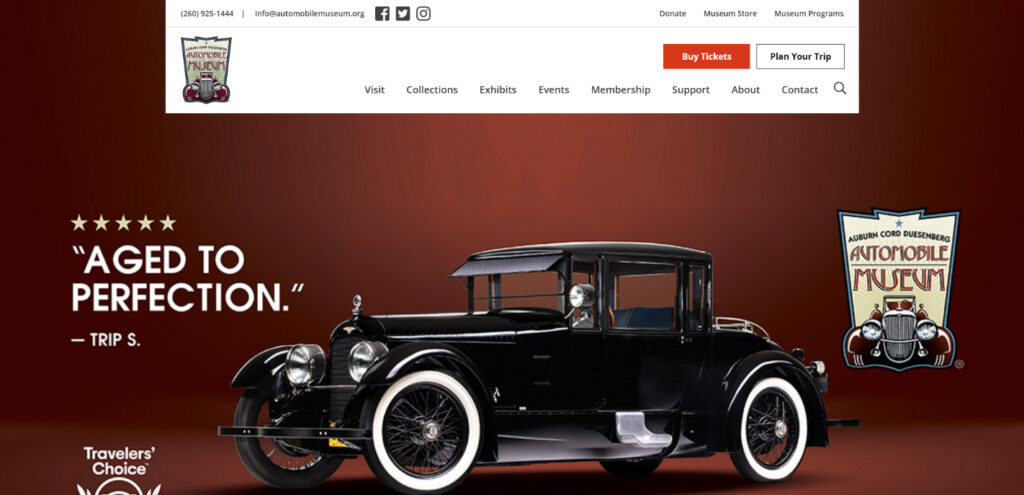 Auburn Cord Duesenberg Automobile Museum
Home of the Classics Since 1974
When the Auburn Cord Duesenberg Museum first opened its doors to the public at 12 o'clock noon on July 6, 1974, an era of exciting automotive history came brilliantly to life. That summer Saturday was the culmination of dreams, held by many, that a permanent institution would be created as a lasting tribute to Auburn's rich motorcar heritage. Never before had there been proposed an automobile museum inhabiting the auto builder's original factory showroom building.
But such was the historical context conceived by a band of visionaries – local citizens believing passionately in the possibility of a museum – who would not give up their goal of rescuing the 1930 administration building of Auburn Automobile Company.
After the demise of the Auburn company in 1937, the factory showroom and headquarters served as a parts and restoration center for the obsolete Auburn, Cord, and Duesenberg cars. Surprisingly, this activity lasted through the 1940s and 1950s, under the name Auburn-Cord-Duesenberg Company, directed by entrepreneur Dallas Winslow. When Winslow sold the business in 1960, the building fell into misuse and ill repair. Machine shops, garment manufacturers, auto and motorcycle lots and industrial warehousing ravaged the historic structure. By the early 1970s, the handsome art deco edifice was grimy, weather-beaten and modified beyond recognition inside.
Practical Information
Checked by Superclassics on
10/02/2022
Er zijn nog geen beoordelingen.