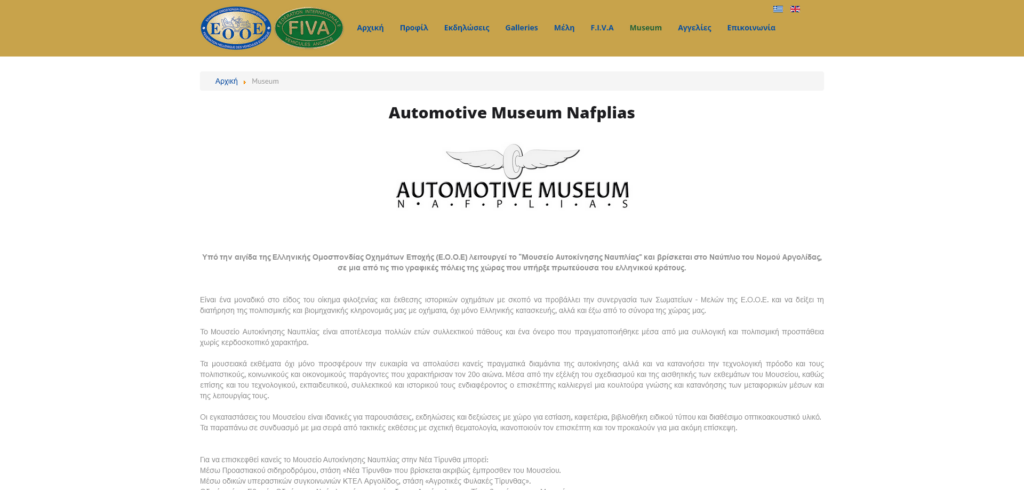 Automotive Museum Nafplias
Under the auspices of the Hellenic Federation of Vehicles of the Season (E.O.O.E.) operates the "Nafplio Automobile Museum" and is located in Nafplio, Argolida, in one of the most picturesque cities of the country that was the capital of the Greek state.
It is a unique house of its kind for the hospitality and exhibition of historical vehicles in order to promote the cooperation of the Associations - Members of E.O.O.E. and to show the preservation of our cultural and industrial heritage with vehicles, not only Greek-made, but also outside the borders of our country.
The Nafplio Automobile Museum is the result of many years of collecting passion and a dream realized through a collective and cultural effort without a for-profit character.
Museum exhibits not only offer the opportunity to enjoy real car diamonds but also to understand the technological advances and cultural, social and economic factors that characterized the 20th century. Through the evolution of the design and aesthetics of the Museum's exhibits, as well as their technological, educational, collectible and historical interest, the visitor cultivates a culture of knowledge and understanding of the means of transport and their operation.
The facilities of the Museum are ideal for presentations, events and receptions with space for dining, cafeteria, special type library and available audiovisual material.
The above in combination with a series of regular exhibitions with relevant topics, satisfy the visitor and challenge him for another visit.
Practical Information
The Museum is open only upon request