Autoseum Nisse Nilsson Collection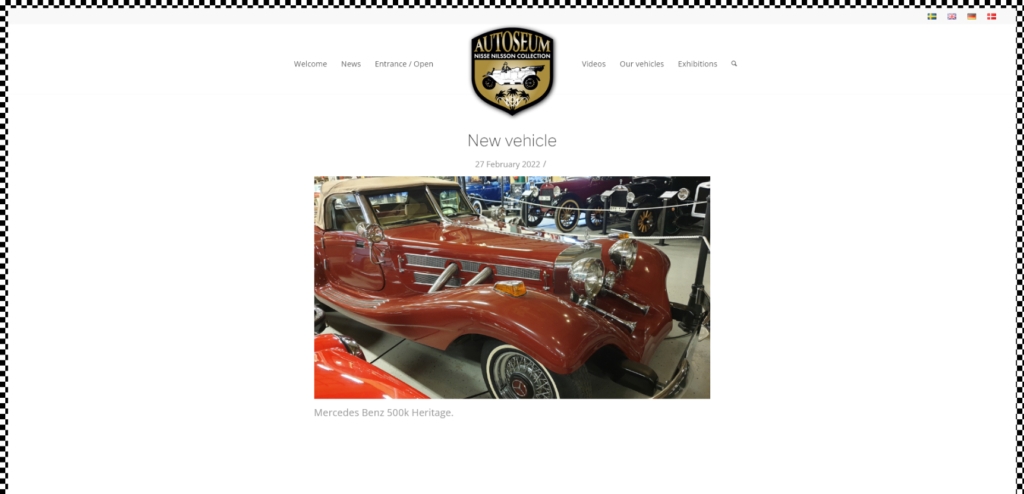 Autoseum Nisse Nilsson Collection
Autoseum – one of Europe's finest motor museums!
The Nisse Nilsson Collection consists of more than 125 luxury, sports and racing cars. The collection also includes some 60 motorcycles. There are two excellent excursion destinations in Skåne for those interested in cars.
I have a past as sales manager at Philipssons and then since 1972 as a dealer with an agency for Porsche. I have provided satisfied customers with a large number of Porschar and also lots of sports, luxury and racing cars.
My collections are located at Mariedalsvägen 45 A in Malmö and at Autoseum in Simrishamn, where since 2009 I have about 20 cars and as many motorcycles.
I am a passionate collector of interesting vehicles and constantly want to renew my collections and exhibitions, which is why on special occasions I offer some vehicles for sale.
The great cooperation I have established with Autoseum has made us move forward. Through the company Oscar Nordström AB, we have acquired the property and thereby further deepened our cooperation. Already for the 2011 season I have brought about 30 new vehicles to Simrishamn and I have the ambition to make Autoseum an absolutely outstanding motor museum in terms of quality.
Practical Information
Checked by Superclassics on
11/02/2022
Incorrect, or a museum missing?
We are always on the search for classic car museums to list on our website. Missing a museum, or found a mistake, please send us the details at info@superclassics.eu.