Henry Ford Museum of American Innovation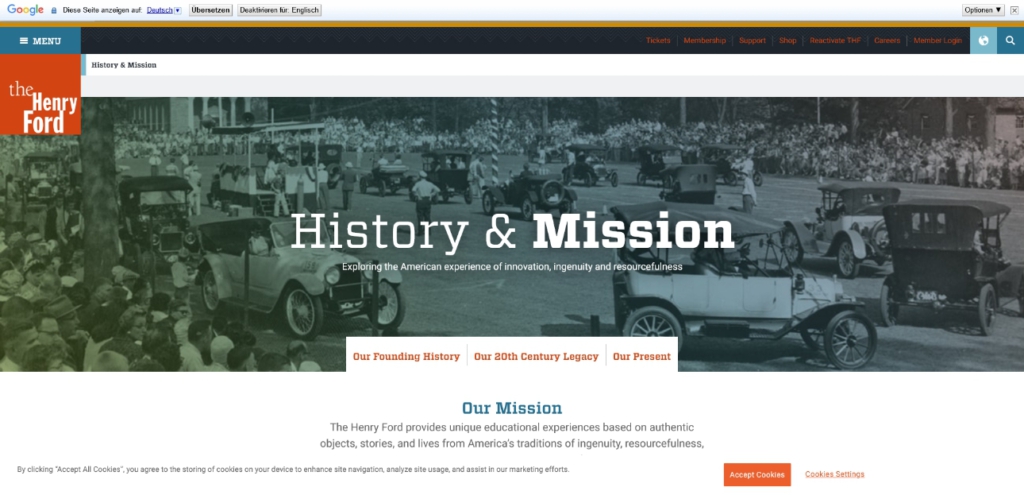 Henry Ford Museum of American Innovation
The Henry Ford in Dearborn, Michigan, is an internationally recognized cultural destination that brings the past forward by immersing visitors in the stories of ingenuity, resourcefulness and innovation that helped shape America. A national historic landmark with an unparalleled collection of artifacts from 300 years of American history, The Henry Ford is a force for sparking curiosity and inspiring tomorrow's innovators. More than 1.7 million visitors annually experience its four venues: Henry Ford Museum of American Innovation, Greenfield Village, Ford Rouge Factory Tour and the Benson Ford Research Center. A continually expanding array of content available online provides anytime, anywhere access to The Henry Ford Archive of American Innovation. The Henry Ford is also home to Henry Ford Academy, a public charter high school that educates 515 students a year on the institution's campus. In 2014, The Henry Ford premiered its first-ever national, Emmy® Award-winning television series, The Henry Ford's Innovation Nation, showcasing present-day change makers and The Henry Ford's artifacts and unique guest experiences. Hosted by news correspondent and humorist Mo Rocca, this weekly half-hour show airs Saturday mornings on CBS.
Practical Information
Checked by Superclassics on
03/05/2023
Incorrect, or a museum missing?
We are always on the search for classic car museums to list on our website. Missing a museum, or found a mistake, please send us the details at info@superclassics.eu.