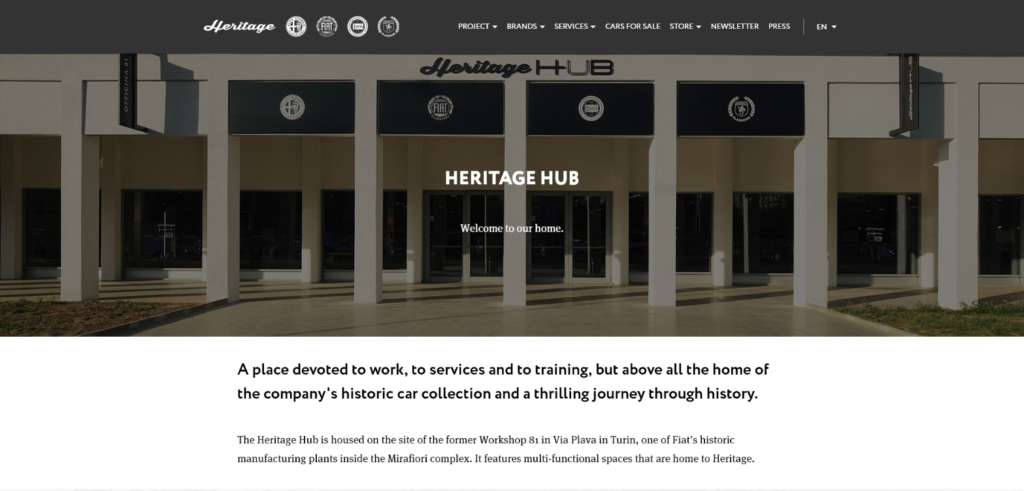 Heritage Hub
The original building – built in the mid-1960s to house mechanical workshops dedicated to the production of transmission parts – was subjected to a careful conservation and restoration process that respected its industrial character, its original colours, its historic cement flooring and the dense network of vertical supports that punctuates the space.
The Heritage Hub contains all the services, activities and products created by Heritage, including staff offices. Its over 15,000 m2 of space also contains an exhibition, which displays the history and the story of the Mirafiori complex, and above all a unique exhibition of over 250 vehicles produced by the Fiat, Lancia and Abarth brands, some of them never seen in public before.
These include 64 cars on show in eight "transversal" theme areas, each of which contains eight models from different brands and periods. These stimulating theme areas can be enjoyed in the display area of the Heritage Hub, as follows:
- Small and safe: houses a selection of models that combined maximum safety with minimum dimensions.
- Style marks: shows a series of "milestones" that left their visual mark on the history of motorcar design.
- Epic journeys: celebrates cars that made famous and unforgettable road journeys.
- The rally era: reserved for models which have written glorious pages in the annals of the world of rallies.
- Eco and sustainable: a group of the most innovative cars in terms of sensitivity to environmental issues.
- Archistars: eight technical masterpieces that introduced significant innovations in motorcar architecture, in terms of functionality and manufacture.
- Concepts and "fuoriserie": special series and ultra-rare models, some unique one-offs, some utopian dreams.
- Records and races: the legendary racing cars with the most prestigious triumphs, record-breakers and heroes.
Heritage HUB will soon also open to the public. Sign up for the newsletter to stay updated on the activities of the Heritage department.
Practical Information
Checked by Superclassics on
10/05/2023
Incorrect, or a museum missing?
We are always on the search for classic car museums to list on our website. Missing a museum, or found a mistake, please send us the details at info@superclassics.eu.