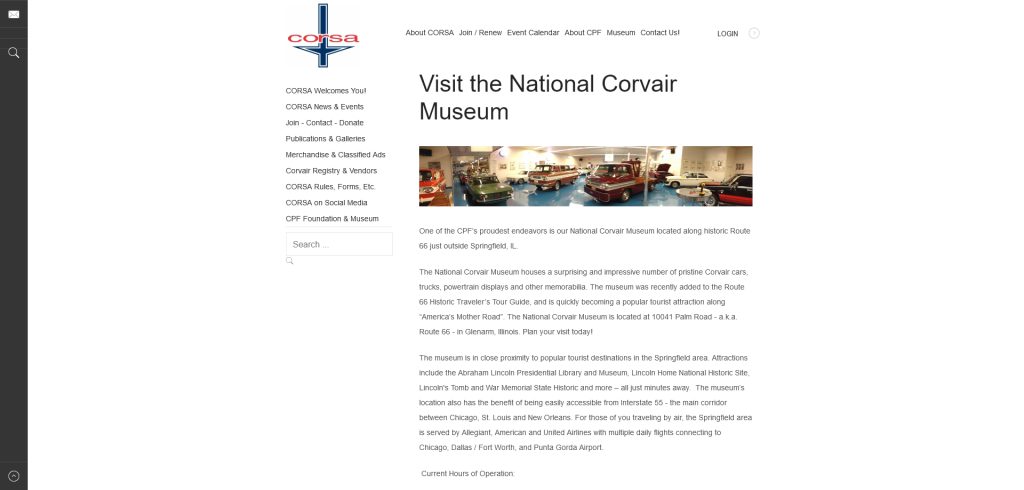 National Corvair Museum
One of the CPF's proudest endeavors is our National Corvair Museum located along historic Route 66 just outside Springfield, IL.
The National Corvair Museum houses a surprising and impressive number of pristine Corvair cars, trucks, powertrain displays and other memorabilia. The museum was recently added to the Route 66 Historic Traveler's Tour Guide, and is quickly becoming a popular tourist attraction along "America's Mother Road". The National Corvair Museum is located at 10041 Palm Road - a.k.a. Route 66 - in Glenarm, Illinois. Plan your visit today!
The museum is in close proximity to popular tourist destinations in the Springfield area. Attractions include the Abraham Lincoln Presidential Library and Museum, Lincoln Home National Historic Site, Lincoln's Tomb and War Memorial State Historic and more – all just minutes away. The museum's location also has the benefit of being easily accessible from Interstate 55 - the main corridor between Chicago, St. Louis and New Orleans. For those of you traveling by air, the Springfield area is served by Allegiant, American and United Airlines with multiple daily flights connecting to Chicago, Dallas / Fort Worth, and Punta Gorda Airport.
Practical Information
Checked by Superclassics on
03/05/2023
Incorrect, or a museum missing?
We are always on the search for classic car museums to list on our website. Missing a museum, or found a mistake, please send us the details at info@superclassics.eu.