Auto and Ethno Museum Filip, Krklino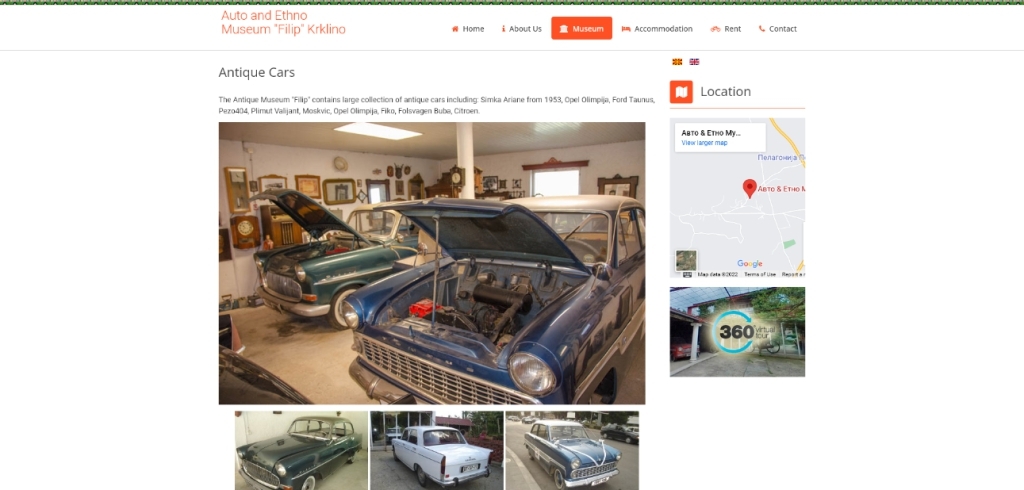 Auto and Ethno Museum Filip, Krklino
Boris Tanevski and his Family invites you to Auto and Ethno Museum "Filip" in Krklino only 5km from Bitola!!!
The Antique Museum "Filip" contains large collection of antique cars including: Simca Ariane from 1953, Opel Olympia, Ford Taunus, Peugot 404, Plymouth Valiant, Moskvic, Fiko Zastava, Volkswagen Bug, Citroen, 24 motorbikes six decades old in a great condition such as BMW, DKW, NSU, MAKS etc.
Contact Information
Кораб, 7000 Krklino, North Macedonia
Practical Information
Cars, Motorcycles, Automobilia, Curiosity
Restaurant / Coffee Lounge
Yes
Checked by Superclassics on
04/07/2022
Incorrect, or a museum missing?
We are always on the search for classic car museums to list on our website. Missing a museum, or found a mistake, please send us the details at info@superclassics.eu.