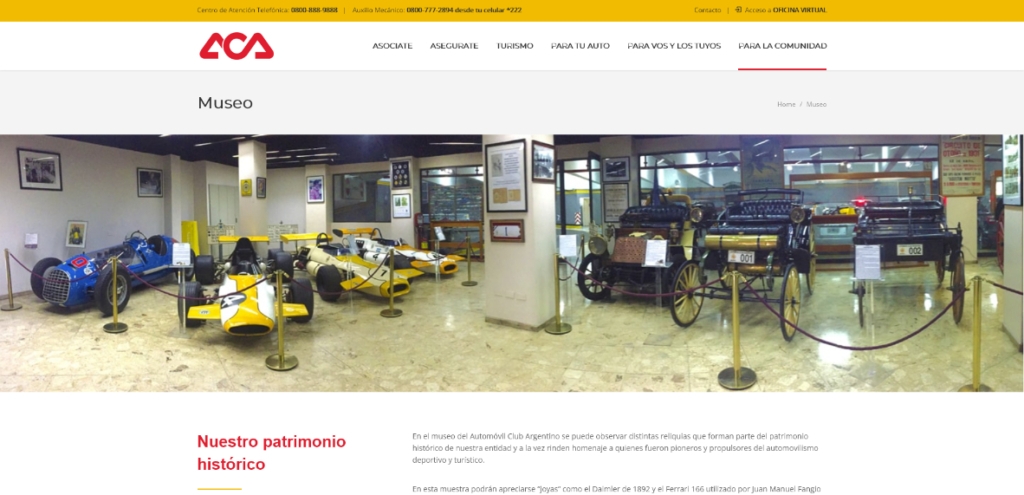 Automovil Club Argentino Museum
In the museum of the Automobile Club Argentino you can see different relics that are part of the historical heritage of our entity and at the same time pay tribute to those who were pioneers and promoters of sports and tourism motoring.
In this exhibition you will be able to appreciate "jewels" such as the Daimler from 1892 and the Ferrari 166 used by Juan Manuel Fangio in the international seasons of special cars - today Formula 1 - of the 49 and 50.
Also pieces such as: a Peugeot car from 1903 with an engine cylindrical mono, a two-seater Wanderer (tandem seats), a Daimler from 1912, among many other historical examples: such as the electric car, Krieger brand from 1898, Mors 1899 and the Yruam, a car projected and designed in Argentina between 1927 and 1928 by the French Engineer Maury.
You will find examples of sports car racing: a 1924 Hudson with a 6-cylinder 4736 cc engine that was used by Ricardo Nasi, a replica of a Ford A Baquet for road tourism, and another Renault 1908. In addition to machines such as the Brabham BT 36 of the year 1971 with which Carlos Alberto Reutemann disputed the European Formula 2 championship. And its predecessor the Brabham BT 30 from the year 1970.
On the walls of the rooms you can see photographs and other documents related to the history of the institution and motorsport in Argentina, such as the patent of the first car that circulated in the country (No. 1, by Dalmiro Varela Castex, founder of the Automobile Club Argentinian).
Contact Information
Avenida del Libertador,1425 AAR, Buenos Aires, Argentina
Practical Information
Checked by Superclassics on
10/02/2022