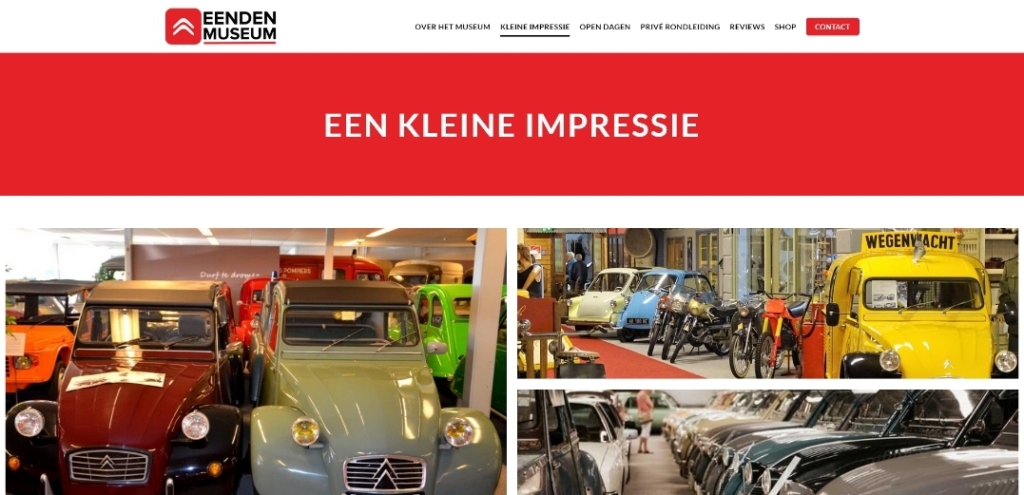 Eendenmuseum
Altijd al een gigantische verzameling van zeer unieke en zeldzame eenden willen zien? Dit is nú mogelijk in het compleet nieuw ingerichte "Eenden Museum" van Edwin Groen. In dit museum kunt u genieten van alle bijzondere auto's die door Edwin Groen door de jaren heen zijn verzameld.
Edwin Groen is in deze regio bekend geworden met zijn rijwielzaak Edwin Groen Tweewielers B.V. Zijn grote passie en hobby is het verzamelen van de zogenoemde "Eenden" ook wel 2CV genoemd. Met zijn zeer grote verzameling heeft Edwin het "Mooiste museum van Nederland" tot stand gebracht in het pittoreske dorp Andijk. In dit museum kijkt u uw ogen uit en waant u zich terug in de tijd met al het moois van Citroën en met nog véél meer verrassingen.
Dit museum is echt een Eendenparadijs. Ze zijn er in alle soorten, maten en staten te bewonderen. Er staan zelfs nog een aantal zeer zeldzame nieuwe Eendjes, zonder enige kilometer op de teller. Deze nieuwe Eenden hebben nog nooit op straat gereden!
Er zijn exemplaren uit de Franse productie te zien, maar ook uit de Belgische en Spaanse. Er zijn ook diverse settings gemaakt, die lijken op levensgrote kijkdozen, waardoor je je in de tijd van toen waant. In dit museum staan geen tien of dertig auto's gepresenteerd maar wel meer dan 300 verschillende auto's.
Ook zijn er talloze replica's en straten van oude winkeltjes waardoor er nóg meer te beleven valt! Er is dus genoeg interessants te zien voor iedereen, jong en oud. Een uitgelezen mogelijkheid om met een groep vrienden, een bedrijf of een andere samenstelling een keer langs te komen!
Practical Information
Every last Sunday of the month.
Incorrect, or a museum missing?
We are always on the search for classic car museums to list on our website. Missing a museum, or found a mistake, please send us the details at info@superclassics.eu.