Gippsland Vehicle Collection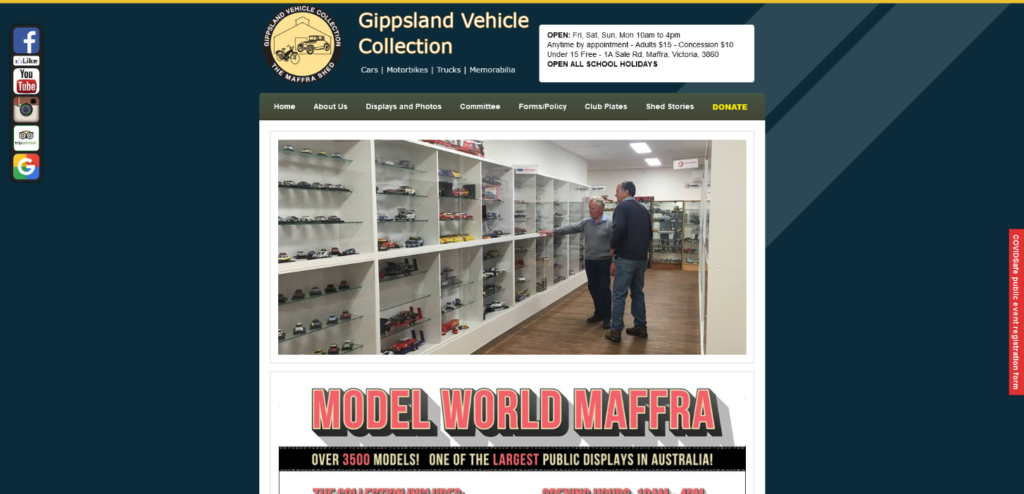 Gippsland Vehicle Collection
The Gippsland Vehicle Collection provides Gippsland with an outstanding rotating display of interesting vehicles, cars, motorbikes, machinery, historic vehicles, carriages, trucks and auto memorabilia.
The motor museum in "The Maffra Shed" is located on the Sale Road in Maffra. The massive Shed is in an old vegetable de-hydrating factory built during WW2 and was initially leased by us from Murray Goulburn. In 2018 we were able to purchase the building which was a great milestone and testament to all the hard work which had gone in by our volunteers over the previous years.
The open-trussed building of around 2200 Square Metres is well worthy of a visit. Features such as Audio-Visual facilities, BBQ's and meeting areas are provided for the use of community groups and car-clubs visiting the museum as part of their weekend leisure events.
Our constantly changing range of vehicles ensures a fresh and exciting display for visitors several times a year. The items on display reflect motoring and transport from horse drawn carriages up to modern racers and hot rods.
Housed in a specially built showroom is a collection of around 3,500 models – one man's lifetime collection. This exhibition never ceases to amaze visitors as it includes a diverse range of models ranging from British Busses, Cranes, Fire engines, Racing Cars, Vintage Cars, Motorbikes and even a selection devoted to Elvis Presley
Practical Information
Checked by Superclassics on
05/12/2021
Incorrect, or a museum missing?
We are always on the search for classic car museums to list on our website. Missing a museum, or found a mistake, please send us the details at info@superclassics.eu.