Heart of Route 66 Auto Museum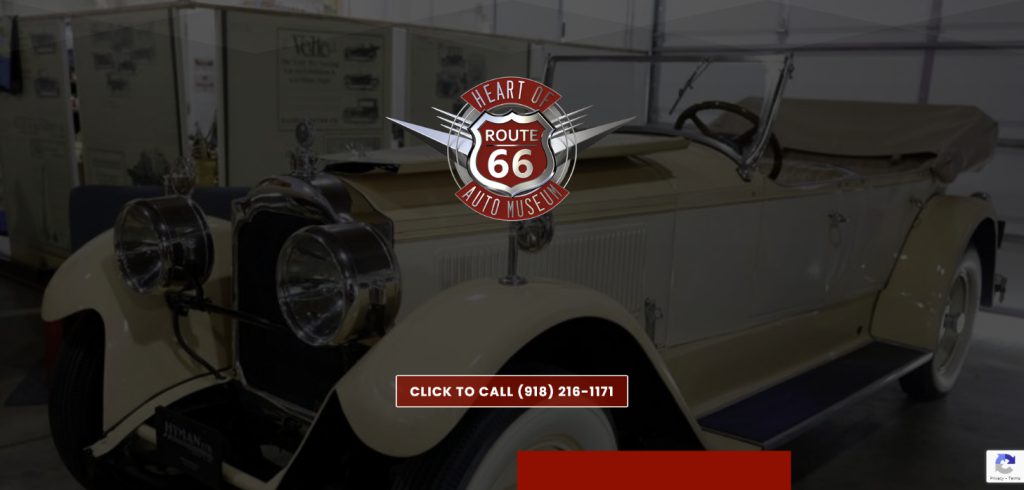 Heart of Route 66 Auto Museum
Heart of Route 66 Auto Museum began as the dream of Richard Holmes, a Tulsa attorney and car enthusiast.
In 2012 Holmes put an advisory board together whose members were all car lovers and collectors; they all shared the same dream.
That original group of "car guys" got together and began searching for a suitable location in Tulsa County for the antique car museum. They chose Tulsa Auto Museum as the Name. The group toured a myriad of locations in the city of Tulsa, but nothing worked out. After four years of searching, they nearly gave up.
Then Holmes got a call from Tim Dye, curator of the Pontiac Museum in Pontiac, IL. Dye had also been searching for space in Tulsa when the city of Pontiac lured him to their town. Sapulpa city officials called Dye offering him an old decommissioned armory for use as his museum. However, Dye, had already left Oklahoma. So he told them about the Tulsa Auto Museum group.
The city of Sapulpa was looking for something to occupy the decommissioned Armory on Sahoma Lake Road, which just happens to intersect with Route 66. The advisory board of the Tulsa Auto Museum jumped at the chance to look at the space. It turned out to be perfect for what they needed.
Only thing: the name had to be changed. So the Tulsa Auto Museum became Heart of Route 66 Auto Museum.
As the new home for the museum, the old Armory located at 13 Sahoma Lake Road needed a lot of updating. Walls were torn down, ceilings raised, both bathrooms and the kitchen gutted and plumbed, and all of the electrical had to be brought into the 21st century.
Extensive work has been done throughout the building to morph the Armory into a museum while still maintaining some of the historic feel of the building.
Three huge garage doors make it easy for antique cars to enter and exit the museum. With 10,000 square feet of space, the building now shows off beautiful and rare cars on the former drill room floor.
At the other end of the building an area highlights how the old armory was used for the 45th Army Reserve in conjunction with Route 66, along with a space dedicated to honoring the Mother Road.
The not-for-profit museum held a soft opening in the spring of 2016. In August of 2016, doors were permanently opened.
Practical Information
Cars, Automobilia, Military Vehicles
Restaurant / Coffee Lounge
Yes
Checked by Superclassics on
02/05/2023
Incorrect, or a museum missing?
We are always on the search for classic car museums to list on our website. Missing a museum, or found a mistake, please send us the details at info@superclassics.eu.