Jerry's Classic Cars & Collectibles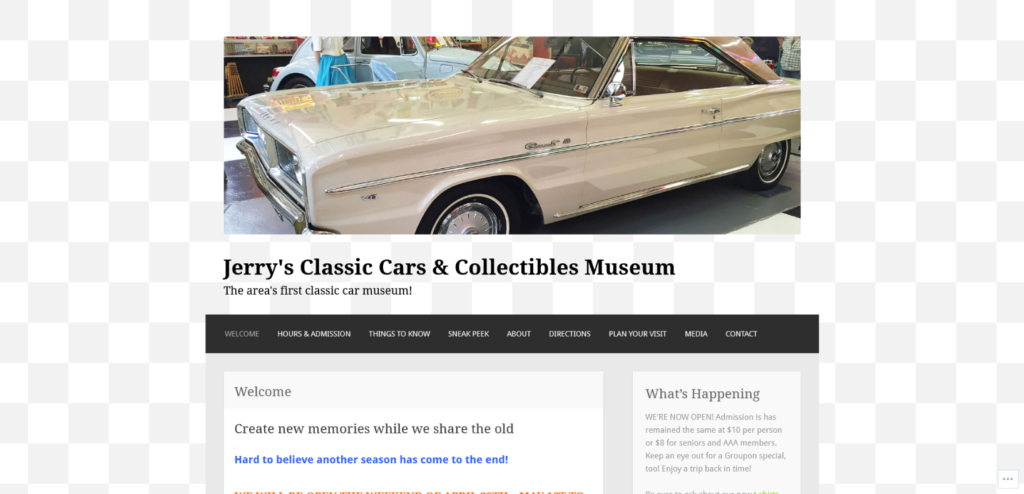 Jerry's Classic Cars & Collectibles
Jerry's Classic Cars & Collectibles museum is built out of the love for cars, growing up in the 1960's, playing rock-n-roll music and drag racing. Working in a gas station at that time was the thing to do for any young man who had an interest in cars and making a few dollars. Jerry Enders, owner of the museum, used those memories as the inspiration behind the design and atmosphere of the museum.
Jerry and his wife Janet transformed the former Morgan Studebaker Dealership (circa 1900) into a museum featuring over 20,000 items and a large variety of classic cars. The museum took years to clean out, fix up, and paint in preparation for its opening in 1994. Their hard work and constant devotion makes the museum the attraction it is today.
As Jerry walks through the museum, he expresses his outlook: "The mural of the 1950's Atlantic Gas Station (on the ground level) is how I remember the one I worked in. The 1950's Band Stand and Drive-In Theater on the upper level will remind anyone of the days of rock-n-roll and outside movies. Along with a variety of classic cars, the snack bar and soda fountain will also take you back in time."
Since its common for the museum to attract men of all ages, Jerry and Janet made sure there are must-see items for women. Walking through the millinery, library, kitchen and appliance store brings countless memories back to life. Do you remember the first song you and your first love danced to? Check out the jukebox on the lower level to enjoy a blast from the past. While listening, engage in a few games on the 1960's pinball machine!
At Jerry's Classic Cars & Collectibles museum, there is something to enjoy for all ages! Share your memories and personal stories with children and grandchildren.
We hope you join us on our journey back in time and that your visit will be an unforgettable one!
Contact Information
394 S Centre St, Pottsville, PA 17901, United States
Practical Information
Checked by Superclassics on
05/12/2021
Incorrect, or a museum missing?
We are always on the search for classic car museums to list on our website. Missing a museum, or found a mistake, please send us the details at info@superclassics.eu.