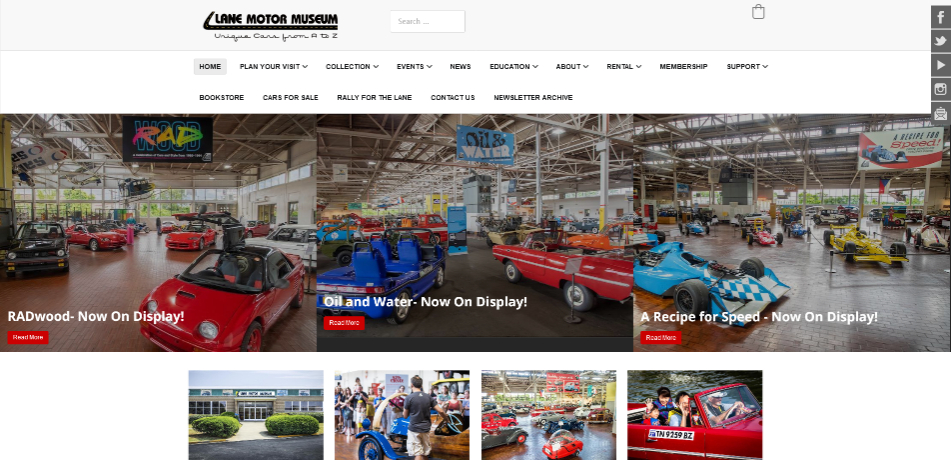 Lane Motor Museum
In 2002, Jeff Lane established Lane Motor Museum. Jeff has been an automotive enthusiast since an early age. He began restoring his first car—a 1955 MG TF—when he was a teen. His personal collection was the donation that began the foundation. Lane Motor Museum unveiled its collection to the public in October of 2003. As director, Jeff Lane continues to search out cars for the collection that are technically significant or uniquely different. The goal of Lane Motor Museum is to share in the mission of collection and preserving automotive history for future generations.
The Museum is a non-profit 501(c)(3) organization.
Lane Motor Museum is one of the few museums in the U.S. to specialize in European cars. It is a working museum with the goal of maintaining all vehicles in running order. Some cars are in showroom condition, while others represent typical aging. Efforts are made to restore each vehicle to near-original specifications.
The Museum has been developed in a well-known Nashville landmark, the former Sunbeam Bakery at 702 Murfreesboro Pike. Home to the bread company beginning in 1951, the 132,000 square-foot facility was the largest and most modern bakery in the area at the time of its opening. The bakery building, outfitted for the museum's needs but left with many of its original characteristics, has a high ceiling, natural light, and hand-crafted brick and maple wood flooring. The architectural style complements the age of the cars represented. The main floor has approximately 40,000 square feet of open space, ideal for displaying the collection.
Practical Information
Checked by Superclassics on
30/11/2021
Incorrect, or a museum missing?
We are always on the search for classic car museums to list on our website. Missing a museum, or found a mistake, please send us the details at info@superclassics.eu.