Motorsports Hall of Fame of America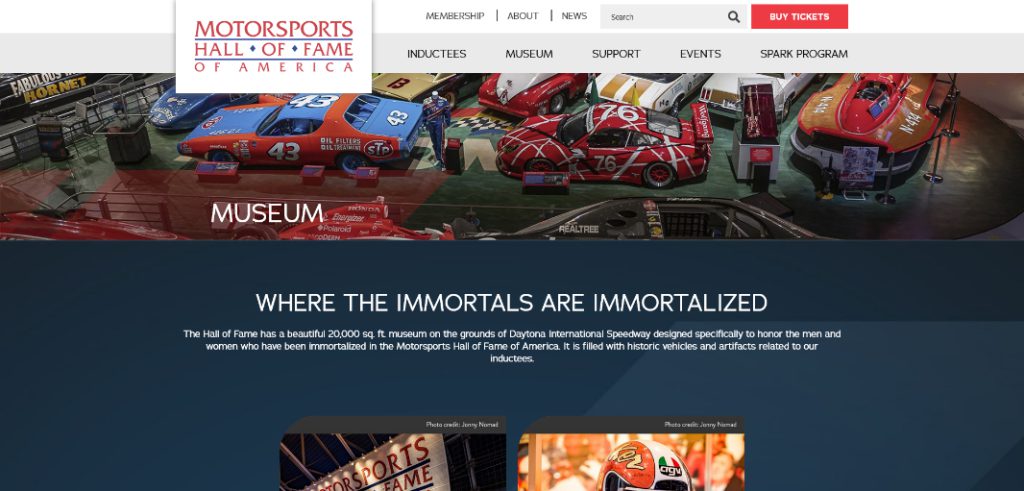 Motorsports Hall of Fame of America
The museum at the Motorsports Hall of Fame of America will wow, thrill and amaze you by documenting the feats of men and women who dared to dare.
Our 15,000-square-foot facility is stocked with vehicles, artifacts and memorabilia that tell these heroes' and heroines' stories. Their legendary achievements often span more than one of the motorsports disciplines we honor — car racing, boat racing, airplane racing, among them. And the eye-popping exhibits in our vehicle corral and display cases rotate frequently, which means always something new — and significant — to see.
A Don Garlits "Swamp Rat" Top Fuel dragster? CHECK.
A Dale Earnhardt No. 3 Chevrolet? CHECK.
"Ironman" Ivan Stewart's Toyota stadium truck? CHECK.
The longest-lived racing airplane, Blueberry? CHECK.
Aviator Howard Hughes' map box? CHECK.
Mickey Thompson's Challenger I world-land-speed record car? CHECK.
A Ricky Carmichael championship dirt bike? CHECK.
Jacky Ickx's Can-Am champion Lola-Chevy? CHECK.
Richard Petty's 1972 NASCAR champion Charger? CHECK.
All driven, prepared or raced by one of our hundreds of inductees. In fact, you might spot sheet-metal dings, or catch a whiff of long-ago burned rubber.
Practical Information
Cars, Motorcycles, Automobilia, Curiosity, Race cars
Admission is included in the price of admission for the Daytona International Speedway tour.
Checked by Superclassics on
08/05/2023
Incorrect, or a museum missing?
We are always on the search for classic car museums to list on our website. Missing a museum, or found a mistake, please send us the details at info@superclassics.eu.