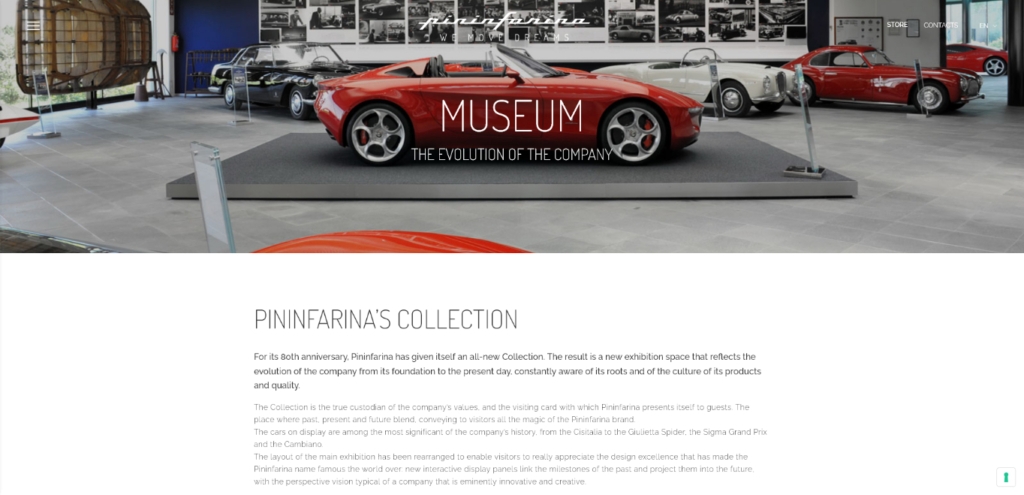 Pininfarina Museum
For its 80th anniversary, Pininfarina has given itself an all-new Collection. The result is a new exhibition space that reflects the evolution of the company from its foundation to the present day, constantly aware of its roots and of the culture of its products and quality.
The Collection is the true custodian of the company's values, and the visiting card with which Pininfarina presents itself to guests. The place where past, present and future blend, conveying to visitors all the magic of the Pininfarina brand.
The cars on display are among the most significant of the company's history, from the Cisitalia to the Giulietta Spider, the Sigma Grand Prix and the Cambiano.
The layout of the main exhibition has been rearranged to enable visitors to really appreciate the design excellence that has made the Pininfarina name famous the world over: new interactive display panels link the milestones of the past and project them into the future, with the perspective vision typical of a company that is eminently innovative and creative.
Contact Information
Via Nazionale, 30, 10020 Cambiano, Metropolitan City of Turin, Italy
Practical Information
Checked by Superclassics on
07/04/2022
Incorrect, or a museum missing?
We are always on the search for classic car museums to list on our website. Missing a museum, or found a mistake, please send us the details at info@superclassics.eu.