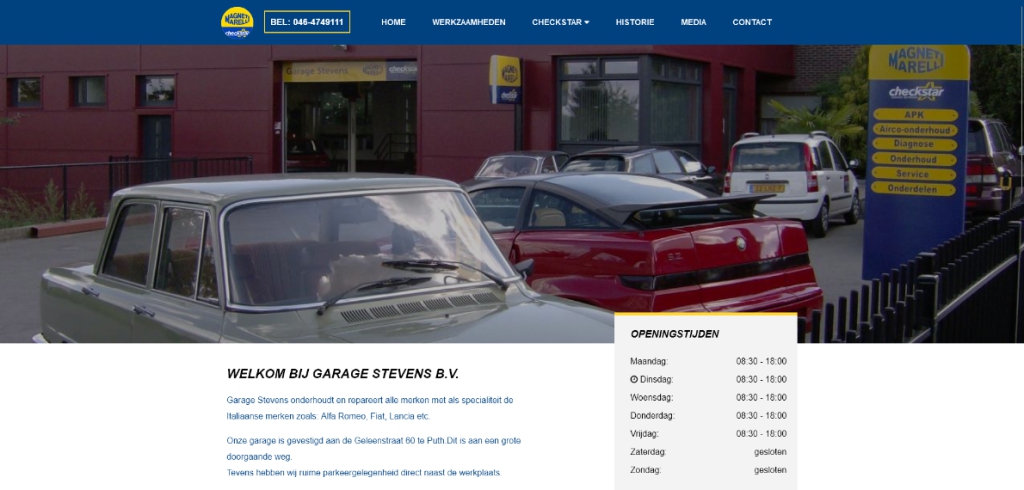 Garage Stevens B.V.
Garage Stevens onderhoudt en repareert alle merken met als specialiteit de Italiaanse merken zoals: Alfa Romeo, Fiat, Lancia etc.
Onze garage is gevestigd aan de Geleenstraat 60 te Puth.Dit is aan een grote doorgaande weg.
Tevens hebben wij ruime parkeergelegenheid direct naast de werkplaats.
Omdat Garage Stevens aangesloten is bij Magneti Marelli Checkstar, beschikken wij over de modernste apparatuur.
Checkstar is voor Nederland een nieuwe formule die in andere landen al een aantal jaren draait. Wereldwijd zijn er meer dan 5.000 autobedrijven aangesloten bij het Checkstar netwerk.
Het accent bij de Checkstar garages ligt op professionaliteit, kwaliteit, deskundigheid en service.
Wat biedt een Checkstar garage?
Checkstar dealers beschikken over een geheel up-to-date en goed geoutilleerde werkplaats en maken de monteurs gebruik van de modernste apparatuur. De onderdelen die gebruikt worden zijn altijd origineel of daaraan gelijkwaardig.
Great service and expert workmanship! A must for Abarth owners!