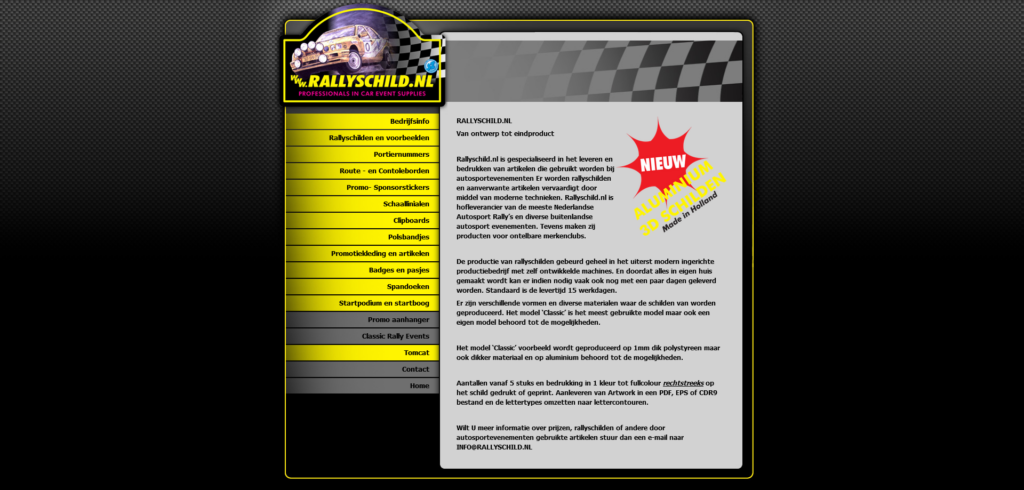 Rallyschild.nl
Van ontwerp tot eindproduct
Rallyschild.nl is gespecialiseerd in het leveren en bedrukken van artikelen die gebruikt worden bij autosportevenementen Er worden rallyschilden en aanverwante artikelen vervaardigt door middel van moderne technieken. Rallyschild.nl is hofleverancier van de meeste Nederlandse Autosport Rally's en diverse buitenlandse autosport evenementen. Tevens maken zij producten voor ontelbare merkenclubs.
De productie van rallyschilden gebeurd geheel in het uiterst modern ingerichte productiebedrijf met zelf ontwikkelde machines. En doordat alles in eigen huis gemaakt wordt kan er indien nodig vaak ook nog met een paar dagen geleverd worden. Standaard is de levertijd 15 werkdagen.
Er zijn verschillende vormen en diverse materialen waar de schilden van worden geproduceerd. Het model 'Classic' is het meest gebruikte model maar ook een eigen model behoord tot de mogelijkheden.
Het model 'Classic' voorbeeld wordt geproduceerd op 1mm dik polystyreen maar ook dikker materiaal en op aluminium behoord tot de mogelijkheden.
Aantallen vanaf 5 stuks en bedrukking in 1 kleur tot fullcolour rechtstreeks op het schild gedrukt of geprint. Aanleveren van Artwork in een PDF, EPS of CDR9 bestand en de lettertypes omzetten naar lettercontouren.
Wilt U meer informatie over prijzen, rallyschilden of andere door autosportevenementen gebruikte artikelen stuur dan een e-mail naar INFO@RALLYSCHILD.NL